Hi Guys,
Here's another tasty recipe I want to share with you. My Barbecue Beef Steak Beer Sandwich. Enjoy!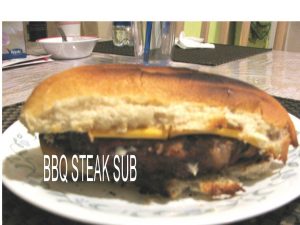 Barbecue Beef Beer Sandwich
1 can beer
1/4 cup soy bean sauce
2 tbsp Dark brown sugar
1/4 cup Vinegar
1/4 cup Hickory barbecue sauce
Pinch of Garlic powder
Pinch of Onion powder
1 Sirloin tip steak,Cut into strips about 1/8 inch wide.
Add all the ingredients into a old ice cream pail,Refrigerate for 12 hours.
Throw only the steak into a stainless steel frying pan with 1 tbsp olive oil,1Large onion sliced,fry until pan is browned. Then add half the marinade with 1 tbsp of corn starch,1/4 cup sweet chili sauce,and if you are like me and like it HOT! Then add 1 tsp of your favorite hot sauce. Cook until sauce thickens. Then put on a toasted bun with your favorite cheese.
Makes 2 servings.
Enjoy A Finger Licking BBQ Today.
Don
The BBQ KING!
http://bbqsecrets.ca
http://www.facebook.com/pages/The-BBQ-KING/175439452495088