Hot and sweet chili pork chops.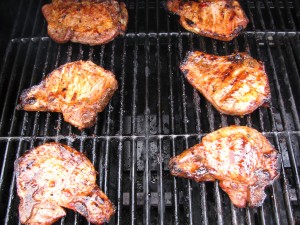 Ingredients:
6-10 bone-in pork chops
1/2 cup Sweet chili sauce
1 tsp Garlic powder
2 tsp soy bean sauce
1/4 cup vinegar
1/4 cup ketchup
3 tablespoon brown sugar
1 teaspoon chili powder
Pinch of Salt and pepper
   
Directions:
In a medium glass bowl or an old ice cream pail,prepare marinade by mixing all the above Ingredients.
 
Marinate in the refrigerator about 24 hours min or 48 max if you like a stronger flavor,Shake occasionally about 4 times.
   
BBQ on the grill until golden brown,takes about 35 minutes,be careful not to burn.
Oh! I just wanted to say that I do this recipe another way too. You can bake in the oven for about 35-mins, broil each side for about 3-mins.  It's a great  way too.
Please share with your friend's.
Enjoy!
The BBQ KING!
---
Barbecue Beer Ribs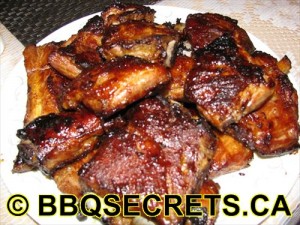 1 can beer
1/2 cup soy bean sauce
2 tsp honey
1/2 cup barbecue sauce
1 tsp Garlic powder
1 Package bone or boneless country-style beef or pork ribs,Don't trim the fat.
Add all the ingredients into a old ice cream pail. Refrigerate for 12 hours.
Throw the ribs on the grill until done.
Makes 6 servings.
Enjoy! A Finger Licking BBQ Today!
Don
The BBQ KING!
#datadiggerdon
http://www.bbqsecrets.ca
Get more Free! Tasty BBQ Recipes on any of the food blogs below…
http://www.bbqsecrets.ca
https://www.facebook.com/groups/BBQSECRETS/
http://www.facebook.com/pages/The-BBQ-KING/175439452495088